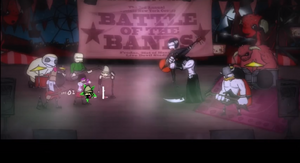 There are 2 main bands in
Charlie Murder
. Additionally there are three alternate band styles, each with it's own unique classes for the Charlie Murder band, and finally there's one average band that can be seen in Bullet Hell Hall.
Charlie Murder
Edit
Charlie Murder is the main protagonists band and the one you start out with.
They are:
Gore Quaffer
Edit
Gore Quaffer is the main antagonist's band.
They are:
The Other Charlie (Ice Band)
Edit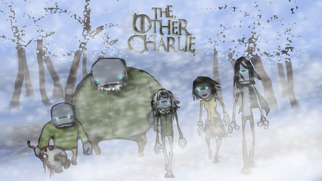 The band unlocked after defeating the
Twin Scenelords
on Normal mode and entering the
Sceniverse
.
The members are:
Ser Charl - Ranger and vocalist, Charl summons ancient creatures to his side.
Kell of the Frosty Mists - Enchantress and backup vocalist, Kell poisons the minds of her enemies.
Cold King Lestin - Lich and lead guitarist, Lestin's elemental spells summon ice and corrosion.
Tomman Feathercrest - Icemonk and bassist, Tomman's incantations bolster the band's resolve.
Rex Harl Krug - Yeti and drummer, Rex's storms strip flesh from bone.
The band unlocked after defeating the Twin Scenelords on Chaos
Halloween Band
Edit
The band unlocked after defeating the Twin Scenelords on Total Anarchy
Bullet Hell Hall Band
Edit
The band encountered by the player in the Bullet Hell Hall that seemingly don't mind playing music as the player goes toe-to-toe with ninjas, zombies and a viking king in front of them.
Ad blocker interference detected!
Wikia is a free-to-use site that makes money from advertising. We have a modified experience for viewers using ad blockers

Wikia is not accessible if you've made further modifications. Remove the custom ad blocker rule(s) and the page will load as expected.