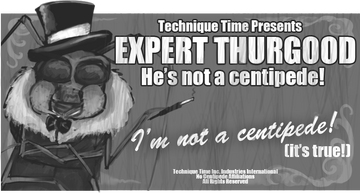 "I'm not a centipede!"
— Expert Thurgood
Expert Thurgood is a professor from Technique Time Inc. Industries International, as seen in his billboard (image to the right) which can be spotted in Witt's Oak Yard, outside Peaceful Oaks Asylum and other smaller, square versions inside Mallrus Shopping World.
Expert Thurgood would be best known for texting the player through their phone every time you obtain a new technique from your Releveler app. He lengthily explains to you about how your new technique works and how you use it. He'd always close his texts with "love and kisses," a heart (<3), and his name.
Though you never meet him personally in the game, you can see his name, face and slogan on billboards in some parts of the game. Though his slogan is "I'm not a centipede," you can see clearly from his picture that he is in fact one. Technique Time Inc. most likely let this be his slogan to keep their "No Centipede Affiliations" title, which they seem to be so proud of to the point that they display it on everyone of their billboards.