The world of Charlie Murder is riddled with many locations that the player can explore. This is a full list of all the locations in the game the player can fast travel to via world map in the order they are traversed.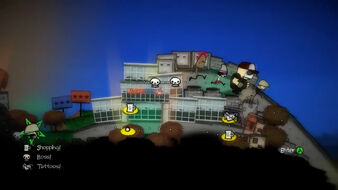 O'Flanagan's Alley
Ink of Rage
BogoMart
Derelict Crypt
Gor'Castle Parks
Gor'Castle Gift Shop
Gor'Castle Ink 4 Kidz (tattoo shop)
Gor'Castle Summit
Gor'Castle Parks Exit
Piratenbase
Murder you tattoo (tattoo shop)
Kermie's Creation Tattoo (tattoo shop)
Witt's Oak Yard
The Forbidden Quill (tattoo shop)
MemeBeans Cafe
Taco Basura
Brinelake Dock
Mallrus Road Exit
Mallrus Shopping World
7th Level Magic Users Tattoo
Forbidden Lot
Dive's End
Ad blocker interference detected!
Wikia is a free-to-use site that makes money from advertising. We have a modified experience for viewers using ad blockers

Wikia is not accessible if you've made further modifications. Remove the custom ad blocker rule(s) and the page will load as expected.